I'd like to today present a very special project.
Barbara Polak who is speech teacher created this original project – cards with funny pictures to help into the therapy process.
To make it happened I've helped with preparing the funny part of the project =  images with the help of Illustrator and based on Barbara's sketches.
She lives and works in Poland so the rest of this post will be in Polish 😉
Karty do ćwiczeń logopedycznych – projekt autorski specjalisty neurologopedy Barbary Polak.
Link do jej strony internetowej: http://logopeda.czest.pl/pomoce.html
Opis:
Pomoc logopedyczna: karty do gry w "Memo" oraz "Piotruś" prezentują w formie graficznej ćwiczenia mające na celu usprawnienie narządów mowy przygotowując do wywołania określonej głoski. Dziecko poprzez zabawę zapamiętuje i opanowuje kolejne ćwiczenia korzystając z dodatkowej podpory wzrokowej oraz skojarzenia z ilustracją. Duży wybór ćwiczeń zaczerpnięty z literatury logopedycznej pozwala indywidualnie dostosować stopień trudności dla danego dziecka i wymieniać karty w zależności od postępów. Element zabawy i rywalizacji motywuje dziecko do starannego wykonywania poszczególnych ćwiczeń. Dodatkowo doskonali pamięć, koncentrację, spostrzegawczość, rozwija skojarzenia, a także uczy zachowań społecznych.
Talia zawiera 36 kart: 17 par kart ponumerowanych od 1- 17 oraz 2 karty bez numeru
Liczba graczy: 2 – 6
Ćwiczenia przygotowawcze do wywołania głoski "sz, ż, cz, dż", kliknij tutaj aby przejść na Allegro

Ćwiczenia przygotowawcze do wywołania głoski "s, z, c, dz", kliknij tutaj aby przejść na Allegro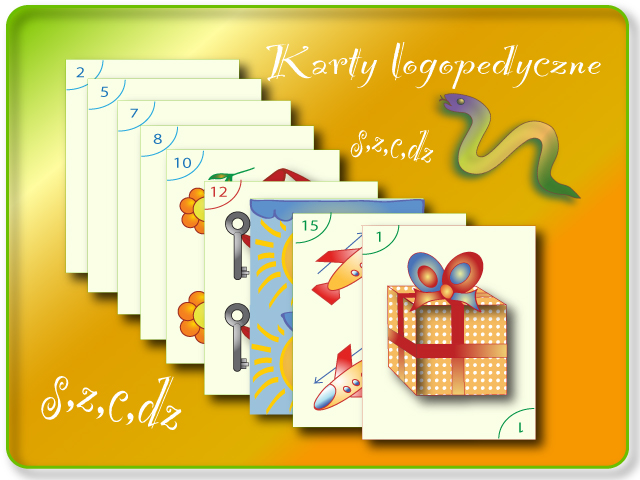 Ćwiczenia przygotowawcze do wywołania głoski "r" – kliknij tutaj aby przejść na Allegro
Ćwiczenia przygotowawcze do wywołania głoski "s, z, c, dz" – kliknij tutaj aby przejść na Allegro